About | Download | Installation | Providers | Releases
About SendSNPP
SendSNPP is a perl program for sending messages through a RFC1861 compliant SNPP server. SNPP stands for Simple Network Paging Protocol. It is used by a wide range of paging providers for sending pages. A list of some of the providers that support the SNPP service is given below. I have used this script in production now for some time and it has proven to be a great script for sending pages. SendSNPP requires no special modules, and has been tested on Linux and Windows systems. It has a very straight forward interface making it very easy to use.
SendSNPP is licensed under the GPL.
Feature List:
Easy addition of new service providers by simply editing a hash
Supports logging to a file
Script returns error status to the system when an error occurs
Automatic message truncation when message exceeds providers limit
Verbose and descriptive error messages if something goes wrong
Multiple debugging levels

[Supported Platforms: Linux, BSD, OS X, Windows 98, Windows NT, Windows 2000, & Windows XP]
Download
Latest Release: sendSNPP-v1.03.tar.gz (8.2kb) Screen Shot

Command Line Options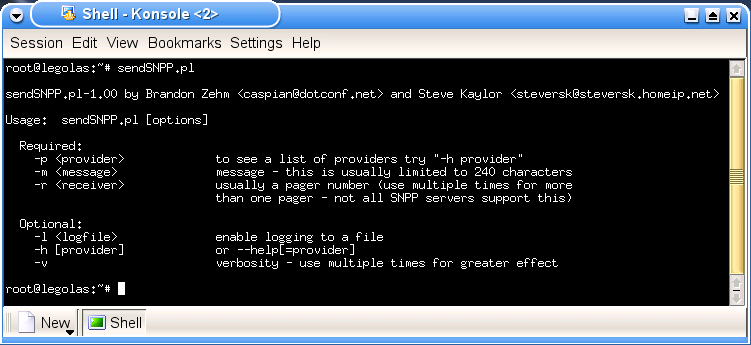 How do I install it?
Simply download, extract, and run "SendSNPP.pl" from a console - it will give a usage summary. It is written in Perl, so no compilation needed. On a unix system if your perl binary is not installed at /usr/bin/perl you may need to edit the first line of the script.
Providers
This is most likely an incomplete list, but here are the ones that are built into SendSNPP. If you know of others please let me know!

Advanced Paging Wireless
Airtouch
AllCom
Ameritch
AzCom
Baystar
Bell Mobility
CTC
Communications Specialists
Contact Paging
DataComm
DataPage
DigiPage
Extel Mobile
Graylink
Highland
Lauttamus Communications
Metrocall
Network Services
Nextel
Nextel 2way
Northeast Paging
Omnicom Paging
Pagemart Canada
Porta-phone Paging
Priority Communication
ProPage
Satellink
Skytel
Verizon
Weblink Wireless
Weblink Wireless 2Way
Download Previous Releases
Version 1.x

sendSNPP-v1.03.tar.gz (8.2kb)
sendSNPP-v1.02.tar.gz (8.1kb)
sendSNPP-v1.01.tar.gz (8.0kb)
sendSNPP-v1.00.tar.gz (7.9kb)
sendSNPP-v1.00-RC1.tar.gz (7.6kb)
sendSNPP-v1.00-beta1.tar.gz (7.5kb)